July 16, 2013
A compilation of sermon sound bites of the late David Wilkerson
David Wilkerson sound bites

- by David Wilkerson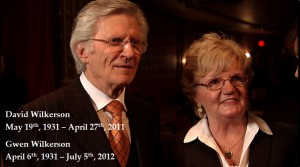 A compilation of sermon sound bites of the late David Wilkerson
David Wilkerson is the founding pastor of the Times Square Church in New York.
On April 27, 2011 he and his wife Gwen were involved in a car accident. David succumbed to his fatal injuries.
Gwen did survive that accident; however, it left her wheelchair bound. One year later on July 27, 2012 the Lord healed Gwen, by taking her home to be with Him and David.
The below audio contains a compilation of sound bites from pastor David. Pastor David, I'll see you both in heaven. Until then, you've been tagged. Thank you Holy Desperation Ministries for this audio.
David Wilkerson sound bites

- by David Wilkerson