February 16, 2015
A scathing sermon jam on 'Prayer that Prevails,' by Ian Paisley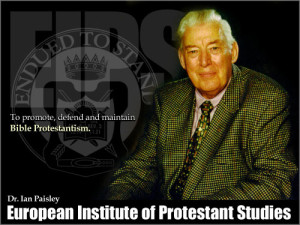 The following excerpt is from Ian Paisley's 1968 sermon on "Prayer." Paisley was a long-term legislator in Ireland, and a bold-prolific preacher. There's not too many old-school preachers left like Ian Paisley. On Sept 12th, 2014 the Lord took him home to glory. He was 88 years old.
The Lord did not call the brethren to preach with polished scholarly words. He called us to be bold and zealous.
"And I, brethren, when I came to you, came not with excellency of speech or of wisdom, declaring unto you the testimony of God. For I determined not to know any thing among you, save Jesus Christ, and him crucified. And I was with you in weakness, and in fear, and in much trembling. And my speech and my preaching was not with enticing words of man's wisdom, but in demonstration of the Spirit and of power:" (1 Corinthians 2:1-4).
Paisley also spoke about "open-air prayer." Interestingly, I have been praying about increasing prayer outdoors within my open-air ministry. Prayer and 'studying' the Word of God are my passions, but I need to do more open-air prayer.
Additionally to hear Paisleys scathing 1988 Easter Convention sermon, given at Martyrs Memorial Free Presbyterian Church, click here.
.