August 23, 2017
Attending a luncheon in Los Angeles for the Old LAPD Centurions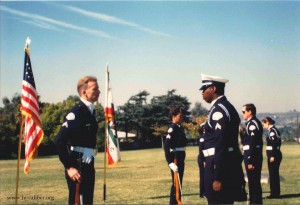 Last week I attended a luncheon in Los Angeles for the Old LAPD Centurions. This was my first time meeting with this particular group of LAPD veterans. The undisclosed restaurant that hosted us, is one that I used to eat at as a police officer (code-7).
To my surprise as soon as I sat down, one of the ladies greeted me with a welcome kiss on the cheek (that beats a handshake from the guys any time).
The Centurions stood and told some amazing stories regarding old cases, and commendable capers that covered lots of geography and history. The details of those stories and comments will remain private (what's said in the car stays in the car).
Frankly this was a humbling experience. Even at my age of 57, I was the youngest guy present. I could not even begin to fit in their shoes (these veterans worked from the early 1950's up to the 2000's, some gave 40-years of service).
In case I had that preferred logistical opportunity, I brought a stack of IPOC Gospel tracts. But to my surprise another LAPD veteran stood-up and shared his faith in his Lord Jesus (he stole my job). Actually he didn't steal anything, he was doing what God requires of him. He then simply held the door open for me to compliment what he had already said. Hence, this was my time to distribute Gospel tracts to all in attendance. Yes those Lawmen (and women) received both the 'Law and the Gospel.' It was wonderful to learn that a few officers had already professed to come to faith in Christ.
Needless to say, this was a positive experience, with much sentimental value. Since my trilogy of full cardiac arrests this January, I'm desirous of doing more reminiscing like this.