May 7, 2016
Hillary Clinton or Donald Trump for president? – Neither!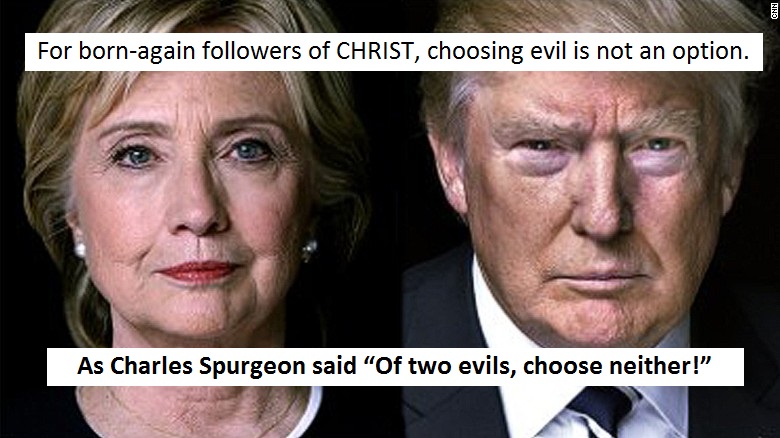 Now that the other candidates have stepped down from the presidential race, I will respectfully say this. I am not ashamed to be an 'out of the closet' conservative (a real one), and most importantly a born-again Christian. But sadly much of America does not understand what a true conservative is, nor do they understand what it means to be a 'Christian.'
Understand this. America is full of RINO's and CINO's. Born-again Christians are in fact a MINORITY within America's populace. Henceforth, the aforementioned points I addressed, coupled with compromise and SIN are the root of America's deterioration. Know this, I am not complaining. Because this is an exciting time to be a Christian. A great time to herald the glorious Gospel into a lost and dying world.
There was a time in my Christian life that I relied too much on 'voter score guides,' and not enough on the Scriptures. I have repented from that, and now use the Scriptures first and foremost as my voter guide.
If you profess to be a born-again Christian. Then before you vote, I strongly urge you to prayerfully study Romans chapter 1 (then receive the admonishment in verse 32). As well as Ephesians 5:1-22 (specifically verses 7-12), Exodus 18:21, 1 Corinthians 5, Proverbs 28:5, 2 Chronicles 19:1-3, and Isaiah 10:1. Because we are NOT to condone, tolerate, nor acquiesce to sin. We are NOT to be partakers in evil, but rather we are to expose them.
Most professing Christians vote for their President based on one (or all) of the following considerations (or platforms). Their view on abortion, gun rights, the constitution or Israel (dispensationalists).
I no longer vote based on platforms (i.e. abortion or Israel). Today my number one platform is the candidates' view of God, Christ, and His Scriptures, lest I commit idolatry by putting platforms before God. If they have a Biblical view of the above, they will have a Biblical view horizontally. Which oftentimes means writing-in, my candidate. Moreover, God is sovereign, and I will trust Him for the final results.
But I choose mine based on their view of God, Christ & His Scriptures. God is most important, lest I commit idolatry.
Therefore I will be 'writing in' a Christlike candidate.
Yes my sovereign King is still on His throne. And I believe God is giving us 'Clinton or Trump' as a form of judgment upon America. Frankly we're getting what we deserve.
"A vote is like a rifle. Its usefulness depends upon the character of the user" – Theodore Roosevelt.
Having said that, something much worse than our next presidency is coming soon (but only 'worse' if you're not saved). As Bible scholar Paul Washer said, "With one hand God is motioning man to come to Him. With the other hand He is holding back His wrath. Soon He is going to drop both hands."
Whoever the next president may be, we must pray for him (or her), and be thankful. Lord let Your will be done!
As always brethren –Love 'biblically' – repent – be salt and light – be holy – be sanctified – fear God – pray without ceasing – keep His commandments – grow in His grace and knowledge – put on the whole armor of God (and use it) – walk circumspectly – believe in and trust Jesus – obey the Gospel – share the Gospel – preach the Gospel – contend for the faith, – disciple each other, hate the things that God hates, and love the things that God loves – keep the faith, work-out your salvation, and endure to the end!
Additional:
For more articles and remarks, view them in the comments section below.
The Cost Factor: Being a Christian will cost you everything