June 3, 2013
Josh Williamson from Australia open-air preaches in Atlanta USA, the end results are great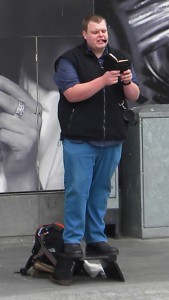 Josh Williamson from Australia (now in London, UK) open-air preaches in Atlanta USA, the end results are great
Josh preaches all over the United States of America, as well as other countries. Here Josh preaches, with great results.
Notice that he did not instruct the potential convert, to 'pray this prayer after me,' nor did he ask him to make a 'decision,' not to "accept Jesus." Nor did he heretically tell him, that he was now born-again. However he did ask him to pray to the Lord, and then he prayed for him.
Josh understands that a Christian is just a sower of the seed. The results are the Lords. More about 'sinners prayers,' and my false conversion here.
'For I am not ashamed of the gospel of Christ: for it is the power of God unto salvation to every one that believeth; to the Jew first, and also to the Greek (Rom 1:16).
(The second video, video #2 shows a man responding to the Gospel call while I was preaching in Dallas, Texas. He was not asked to make a decision, nor repeat a prayer after me, nor just accept Jesus into his heart. He was told to repent from his sins, believe in the Gospel, and put his faith and trust in Christ. He was later plugged into a church for discipleship. We'll know later if he truly was saved.)
Update: In Sept 2013 Josh was arrested for preaching. A video of his arrest can be seen here.
Video #1
Video #2