October 15, 2018
Justin Peters warns that 'moralism' and 'politics' are not the role of the church, that abortion and homosexuality are a form of Gods judgement upon America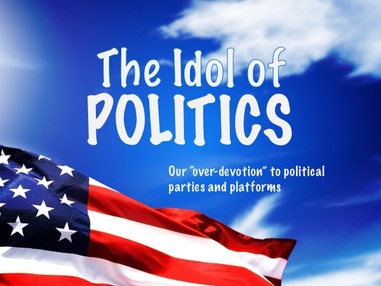 Interestingly, this presentation was given during the presidency of Barack Obama, way before the slogan "Make America great again" became popular. Peters warns that professing Christians should not be so fixed on making America better. Because the role of the church is not to make America better again, it's to preach (or share) the true Biblical Gospel, and make disciples.
Peters also warned about the 'social justice gospel,' way before it was popular to do so. He rightfully teaches that it's wrong for the church to place an emphasis on making America better through "moralism" and "politics." That moralism offers a false a sense of security, and that sins such as homosexuality and abortion are not necessarily the catalysts for God judging America, but that they are a form of Gods judgment upon America.
He also warns how professing Christians should not be partnering with ecumenical pro-life ministries.
Thankfully years ago the Lord convicted me of my patriotic idolatry, and He delivered me from my patriotism. That is when the Lord progressively increased my sanctification and holiness. I pray more professing Christians will come to know these truths, and that they will repent.
Disclaimer: The part I disagree with, is Peters seems to deny that the Scriptures do speak harshly against sexual immorality.
Lord let Your will be done, not my agenda.
About The Author
Bill Rhetts
An ordinary sinner saved by an Extraordinary Savior. Radially saved, and radically changed, by a Radical God. For more details, see the above 'About me' tab.