November 24, 2021
My response to Rick Martinez promoting Mormonism, and YouTuber Silva Silva
Because of the unhealthy state of our nation, I am seeing an increase in nationalism coming in and out of local churches. I'm even seeing seemingly solid pastors share writings or videos from members of religions contrary to the Scriptures.

But as I stated in a recent tweet –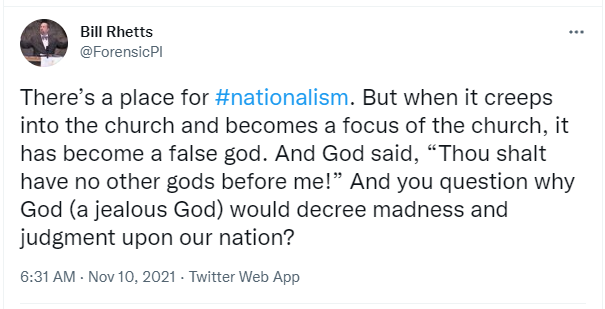 Though I appreciate a president or politician that's a nationalist, that is not the role of a pastor, nor the church. This nationalism is giving birth to sins such as ecumenicalism and religious pluralism. Sadly, there is an increase of professing born-again Christians joining hands with other religions and/or cults.

Recently I saw this Rick Martinez post a video on the Street Preachers Discussion Group. His radio interview supported and promoted two Mormons and their local outreach. Screenshot below.
Since Martinez posted his promotion of Mormonism on a "discussion" group, above you also will see my comment to his original post.

When Martinez never replied to my above comment, three days later I decided to Biblically warn the church about his religious pluralism. Screenshot below.
I shared the above warning on Facebook, Twitter, and my YouTube channel. To my surprise, another professing Christian (YouTuber Silva Silva) opposed my warning, as Silva Silva joined hands with Martinez and the Mormons. Screenshot below.
And so, I replied to Silva Silva with my below comment.
I prefer a peaceful experience on social media. But if we're going to be Biblical and not compromise, there will be no peace on this side of heaven. Therefore, polemics with our apologetics will be necessary.
And so, to all of those that profess to be born-again. Regardless of the state of our union, or who occupies the White House, when politics or our nation doesn't go our way; let us exemplify a faithful Biblical Christianity. Let us rejoice in all things, and be thankful. Let us trust in Almighty God, that He is sovereign over all these matters, and without joining hands with cults.
"Look carefully then how you walk, not as unwise but as wise, making the best use of the time, because the days are evil. Therefore do not be foolish, but understand what the will of the Lord is. And do not get drunk with wine, for that is debauchery, but be filled with the Spirit, addressing one another in psalms and hymns and spiritual songs, singing and making melody to the Lord with your heart, giving thanks always and for everything to God the Father in the name of our Lord Jesus Christ, submitting to one another out of reverence for Christ" (Ephesians 5:15-21).
"Rejoice always, pray without ceasing, give thanks in all circumstances; for this is the will of God in Christ Jesus for you" (1 Thess. 5:16-18).
"Rejoice in the Lord always; again I will say, rejoice. Let your reasonableness be known to everyone. The Lord is at hand; do not be anxious about anything, but in everything by prayer and supplication with thanksgiving let your requests be made known to God. And the peace of God, which surpasses all understanding, will guard your hearts and your minds in Christ Jesus" (Philippians 4:4-7).
---