October 2, 2015
The Legendary Ladies Luncheon, then evangelizing the Sunset Strip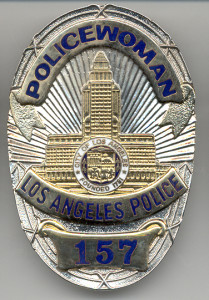 The Legendary Ladies Luncheon, then Evangelizing the Sunset Strip
Today I attended the annual Legendary Ladies Luncheon. Which was held at the famous Taix French Country Cuisine located in Los Angeles. The banquet room was a full house.
Hundreds of years ago the LAPD badge depicted the name "Policeman." Then in the 20th century a new badge was created for the ladies, which depicted the word "Policewoman." Then in the 1970's, to make the badge more gender-neutral, they changed all new badges to "Police Officer." Today I was privileged to meet many LAPD Legendary Ladies.
Similar to the WWII veterans, the legendary policemen and policewomen are quickly dying off. Their ages range from 80 to 100 years old. Henceforth, there is a sense of urgency to present both the Law and Gospel to them.
This event was also well attended by on and off duty command staff. Present also were many legislative / judicial dignitaries. Including but not limited to, was the Honorable Judge Lance Ito, whom presided over the O.J. Simpson trial. One person that I was particularly fond of, was the first lady to the late Daryl Francis Gates. Sami Gates is a precious gem, and I don't think "The Chief" would mind that I gave her a kiss.
My purpose in going was twofold. 1) To show my support of these legendary ladies, and 2) to evangelize this large crowd of VIP's.
By Gods grace I was able to place an IPOC Gospel tract into about 95% of their hands. Lots of conversations came to fruition from that.
While in the area, afterwards I open-air preached on the famous Sunset Strip. I videotaped my encounters with prostitutes, but they were too scantily dressed to publish. Please pray for all these Seeds that were planted.
Additional videos of other police funerals & memorials etc.