March 6, 2019
Tonight's thunder and lightning storm in Southern California (a Biblical climate change)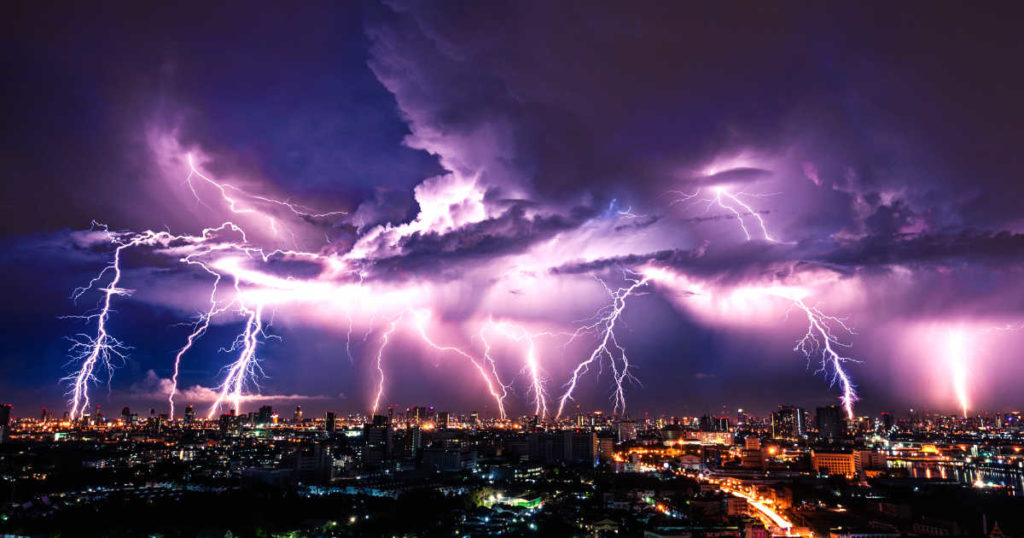 Though it was short lived. An hour ago my wife and I (and four very scared dogs) heard the loudest thunder and lightning storm that we've ever heard in this part of Southern California. So while still in the dark, I turned our tablet on, and starting reading Scriptures about thunder. This was certainly one of those special Ephesians 5:25-27 moments.
Husbands, love your wives, as Christ loved the church and gave himself up for her, that he might sanctify her, having cleansed her by the washing of water with the word, so that he might present the church to himself in splendor, without spot or wrinkle or any such thing, that she might be holy and without blemish.
The Bible tells us that when we see a rainbow, it is a reminder of God's Noahic covenant (Genesis 9:13-16). Similarly and metaphorically, for me, tonight's thunder and lightning displayed a theological significance, and perhaps it would not be err to say; it was prophetic in nature (emphasis added on 'in nature.' I'm not saying this thunder was prophecy, but prophetic 'in nature').
None of this had anything to do with the fictional "mother nature," but it has everything to do with the majestic splendor of Almighty God. Whether it be the thunder witnessed on Mount Sinai, where Moses was to receive the Ten Commandments (God's Law – Exodus 19-24). Or the thunder that might represent God's love for His church. Or the thunder that represents God's judgment, and wrath that He stores-up for the non-elect (Romans 2:5). Or the vengeance seen and heard against those that do not obey the Gospel (2 Thess. 1:5-12). Or the trumpet that will sound upon the Second Coming of Christ (1 Thess. 4:16). Or from the sound of the many other trumpets mentioned in the Scriptures. One thing is for sure, God is certainly on His throne, and He's got His hand on the thermostat. That is the climate change I believe in.
If you never have, do a word search and study on the 'thunder' in the Bible. And do this in fear of the Lord, and for His glory. Just for a starter here's one verse.
Hear attentively the noise of his voice, and the sound that goeth out of his mouth. He directeth it under the whole heaven, and his lightning unto the ends of the earth. After it a voice roareth: he thundereth with the voice of his excellency; and he will not stay them when his voice is heard. God thundereth marvellously with his voice; great things doeth he, which we cannot comprehend. For he saith to the snow, Be thou on the earth; likewise to the small rain, and to the great rain of his strength.

– Job 37:2-6


And lastly, regarding God's Law, read my Gospel tract below. His Law is written on your heart (Romans 2:15).