September 3, 2016
Video about "God's wrath via natural disasters & sexual immorality" by John Piper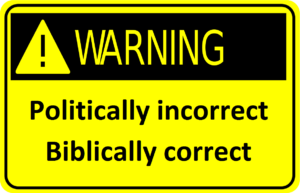 As I watch the Facebook feeds of many Facebook friends (that profess to be Christian). Not only are they silent on this issue, but some of them sinfully accept and embrace this sin. Jesus never accepted nor embraced sins. He told them to "repent," or "sin no more." He told them "repent or perish!"
As I said in a previous post, "A Biblical love will abhor all sin and immorality, as I repented and came to abhor my own former heterosexual sins. The Lords church must refrain from this unbiblical love (aka sloppy agapé), and this unbiblical grace (aka greasy grace)."
A Biblical church will abhor all sin, and when it comes to us, we will flee from it, and/or repent from it. A Biblical love will not make the unsaved feel comfortable on their way to hell. Biblical Christians will teach, share, and/or preach the whole counsel of the Word of God; both the goodness and severity of God (here's a video of me sharing with a sexually immoral man).
Let us remember, in these days when 'niceness' and 'friendliness' and 'fellowship' are exalted to the supreme position and at the expense of the truth, that the exhortation addressed to the New Testament teachers and believers was not that they should be ready to agree with anything for the sake of unity and fellowship. – Martyn Lloyd-Jones
This passage is to Christians, and for each other as Christians. "Let love be without hypocrisy. Abhor what is evil; cling to what is good. Be devoted to one another in brotherly love; give preference to one another in honor; not lagging behind in diligence, fervent in spirit, serving the Lord; rejoicing in hope, persevering in tribulation, devoted to prayer, contributing to the needs of the saints, practicing hospitality" (Romans 12:9-13).
As always – Ye must be born again. Repent – be salt and light – be holy – be sanctified – fear God – pray without ceasing – keep His commandments – walk circumspectly – believe in and trust Jesus – obey the Gospel – share the Gospel – preach the Gospel – contend for the faith, – hate the things that God hates, and love the things that God loves – keep the faith, work-out your salvation, and endure to the end!
Disclaimer: IPOC Ministries makes an effort to share excerpts from various sermons (aka sermon jams,) from various pastors. However, this does not mean that IPOC endorses all doctrinal views of every pastor shared here. – Chaplain Bill 🙂