December 5, 2017
Video Exploring & Evangelizing the Anza Borrego Desert (an off-roading trip)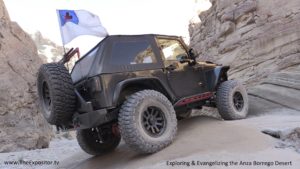 On this day I explored the Anza Borrego Desert, in this particular video are clips from Fish Creek Trail, and Sandstone Canyon. While doing so, I also evangelized the off-road community, as I distributed Gospel tracts to fellow off-roaders.
I saw a group of 'university students' studying this amazing canyon. When I exited my Jeep to distribute Gospel tracts to them, their leader (possibly their Professor) made it clear to me that she was "not interested." When I suggested that her that her students might be, other than a few, she discouraged the rest of them from accepting my tracts. So I did the unthinkable, I began preaching the glorious Gospel into the open-air. I've never seen a classroom clear-out so quickly, even fire alarms don't move students this fast from a classroom. I assured them that leaving was not necessary, as I was leaving in a couple minutes regardless. Those future Mineralogists, Geologists, or Archaeologists will never forget that classroom experience (as His Word promises to never return void). Seeing them flee was partially humorous, but sad at the same time.
While enjoying my own exploration of God's creation, I continued distributing Gospel tracts to others throughout the day.
My last stop on the way out, was a Bar that is frequented by 'off-road enthusiasts' (but not to drink). I began distributing tracts there as well. The first four tracts I distributed were to four 'party animals' sitting inside a vehicle. But after witnessing inside, I discovered those same four tracts on my windshield, but hey at least they didn't vandalize my rig. One fellow sitting at the bar, told me that "John 3:16 and 17" were his favorite Bible verses. But I reminded him about the rest of that chapter (from verse 3 to 36,) and when I quoted verse 36, his eyes lit up. I also spoke to him about repentance.
Except for the bar, I did not wear a body camera in the canyon, nor during the preaching in the canyon (except for dash-cam). I will probably not upload the bar portion. Thank You Lord for the fun in the sun, as I exalt Your Son. By the grace of God, for the glory of God.
Enlarge to 'full screen,' and enjoy Gods splendor.
Music 'Holy, Holy, Holy, Lord God Almighty,' by Choir of Kings College, Cambridge.