January 30, 2013
Warnings of 'The Message' Bible translation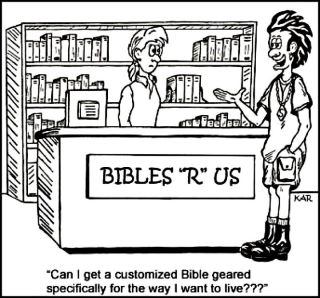 A Watchman warning. Stay away from "The Message" Bible translation (and others alike.) It's is not the Word of God. It is at best a Christian book, or a "loose paraphrase" of the Bible. It's a bi-product of the purpose driven, postmodern, politically correct, Biblically incorrect, emerging church movement.
Where supposed to water down the saints with the Word, not water down the Word. Below is a compilation of 7 videos on "The Message" Bible mis-translation.
"I charge you therefore before God and the Lord Jesus Christ, who will judge the living and the dead at His appearing and His kingdom: Preach the word! Be ready in season and out of season. Convince, rebuke, exhort, with all longsuffering and teaching. For the time will come when they will not endure sound doctrine, but according to their own desires, because they have itching ears, they will heap up for themselves teachers; and they will turn their ears away from the truth, and be turned aside to fables. But you be watchful in all things, endure afflictions, do the work of an evangelist, fulfill your ministry." 2nd Tim 4:1-5
"Divisions and separations are most objectionable in religion. They weaken the cause of true Christianity. But before we blame people for them, we must be careful that we lay the blame where it is deserved. False doctrine and heresy are even worse than schism. If people separate themselves from teaching that is positively false and unscriptural, they ought to be praised rather than reproved. In such cases separation is a virtue and not a sin." – JC Ryle,
If you have any other links and/or videos that you'd like to submit to this blog post, please do so in the below comments section.
Pastor Jon Courson on 'The Message' (Disclaimer: I disagree with Pastor Jon plugging the NIV, it's bad news, avoid it. Moreover stay away from all para-phrases)


Weird Al or The Message Bible?

THE MESSAGE BIBLE: AN UNEDIFYING MESS 1/5

THE MESSAGE BIBLE: MISSED THE BOAT? 2/5

THE MESSAGE BIBLE: SEX, SEX, AND MORE SEX!!! 3/5

THE MESSAGE BIBLE: HELTER SKELTER 4/5

THE MESSAGE BIBLE: AS ABOVE SO BELOW 5/5